The Long Cool Summer of '65 Revisited - Act II Episode # - Bob Dylan and the Hawks
Few events in the half-century history of rock & roll are considered more significant than when Bob Dylan plugged in his guitar, went electric and began playing with the Hawks.
How Dylan came to meet the Hawks has been a matter of much scrutiny and uncertainty, and there has been a lot of myth making around the legends as they grew over the years.
The most popular accounts have Dylan discovering the Hawks while on vacation in Atlantic City, or some variation of that, but after much diligent research this is the most likely account of what really happened.
By the end of June '65, Dylan's song "Mr. Tambourine Man," as recorded by the Byrds, was Number One on the pop charts and one of the songs that the hippies at Shriver's Pavilion on the Ocean City Boardwalk would play on their guitars and sing, with someone playing a bongo drum and inevitably a tambourine would chime in.
The Byrds were a new California band who took the song, as it was written by Bob Dylan, and gave it a rocky twist, and make the song the first and the only song Dylan would write to make it Number One on the popular music charts.
Dylan wrote the song the previous winter of 1964 during a cross country road trip he made with some buddies. He was already the epitome of all things folk, pretege of Woody Gunthrie, leader of political protests, playing with Joan Baez at the Lincoln Memorial when Martin Luther King, Jr. gave his "I Have A Dream" speech, and was the darling of the folk crowd and the "conscience of his generation."
But Dylan had recently been booed by a liberal white audience when he accepted the Tom Paine Award and gave a drunken, rambling speech in which he showed sympathy for President Kennedy's assassin. With a new album in the can, a small college tour to back it, his relationship with girlfriend on the rocks, it was time to get out of Dodge.- "Get while the getten's good," as someone in his crowd said, making Dylan stop to think if there's a song in that cleche.
On the cross country, coast to coast road trip from New York City to San Fran, they stopped at every record shop on the way – in Newark, Philadelphia, Wilmington and Washington D.C,. to buy every copy of his new record they could get their hands on, one of which was given to Carl Sanberg, who they dropped in to visit unexpectedly, and found the old man at home on his farm and a bit perplexed by this young man knocking on his door and handing him a record. Sandberg just didn't get it, but was polite about not acknowledging it.
The itinerary of this road trip included stopping to sing for some Freedom Riders, who were northern white liberal college kids trying to convince black people in the South to register and vote, some of whom were being killed by the local red necks.
Then it was on to New Orleans, where they visited some clubs in the French Quarter and found a young hippie singing Dylan's songs. Then they stopped at Dealey Plasa in Dallas where President Kennedy was killed before moving on to Vegas and San Francisco.
Well it was sometime during that road trip that Dylan wrote "Mr. Tambourine Man," a song he said was about Bruce Langhorne, a folk music session percussionist who had a large Turkish drum that was lined with bells that sounded like a tambourine, an instrument Langhorne said he bought in a Village pawn shop.
Dylan recorded the song in a Hollywood studio while he was in California, and a demo copy of the first recording of the song was shared with the Byrd's manager, who convinced them to record it as one of the first of the songs they would do in what was to become known as new genera of music they called soft-rock, and they did it complete with drums, guitars and all kinds of new electronic gimics they were coming up with. The "Mr. Tambourine Man" recording session actually included only two members of the Byrds, formerly The Jet Setters, including David Crosby, and studio session men who would become known as The Wrecking Crew.
The Byrd's version of "Mr. Tambourine Man" was released first, and hit the pop charts like a bullet, and it quickly got Dylan's attention, in fact it blew him away, not only because of the sound, but the fact that a lot of people liked it – it helped bring folk music into the popular mainstream, and made everybody a lot of money.
Back in New York City, Dylan retreated to his Village apartment and was inspired to write not just another song, but another song that would change music as we know it, society as it was and the world in ways that are not yet done.
When Dylan finished writing the last lyrics and notes to "Like A Rolling Stone" he knew he had a hot hit on his hands, and made a quick mono tape recording of it, and then took the tape and his guitar Uptown to the office of his manager Albert Grossman. Grossman was busy with another client, John Hammond, Jr., but Dylan and Hammond were friends too. Hammond's father, John Hammond, Sr., had signed Dylan to Columbia Records, as he had previously signed Billie Holiday and would someday sign the kid from Asbury Park who had yet to come down the Pike and wasn't yet the boss.
Dylan excitedly told Grossman and Hammond that he wrote a new song, and he wanted them to hear it. Dylan was going to play the tape he had just made but instead he spread the half typed and some hand scrawled words out on paper on the coffee table in front of him, picked up the guitar and began to strum and sing, "Once upon a time, you dressed so fine,......"
Grossman and Hammond had the same reaction to the song as Dylan himself, they knew it was a hit, but they also knew the ugly inner workings and blood, sausage and guts of the entertainment industry and were aware that even the best songs can fall by the wayside if not done logistically correct, and there was no particular way to do it, they just had to get all the ducks in order to make that song a hit.
Then Dylan mentioned the Byrd's version of "Mr. Tambourine Man," and how neat it sounded with the drums, guitars, keys and all that reverb shit, and that's how "Like A Rolling Stone":had to be produced, not as an acoustic folk song.
And Grossman agreed, and he seldom agreed with anybody, as he was known to be one of the toughest and most ostentatious entertainment managers on the planet, at least in New York City. He even disagreed with the contract Hammond, Sr. had given Dylan and made him re-write it.
While Hammond, Jr. was a rich white boy who loved and played really good black blues songs, he got the rock and roll thing too, and Grossman started going through his massive Rolodex they began throwing out names of rock and roll bands who could possibly play "Like A Rolling Stone," and tour with Dylan to back the song and the next album that they knew could revolutionize music as it was known at the time.
"Dion broke with the Belmonts," Grossman said dryly, "and we have this new group out of Chicago, "The Paul Butterfield Blues Band is looking for work,....." and Hammond threw out the names of some of the groups he knew might fill the bill, but then a squeaky, uncertain girls voice spoke up and interrupted them.

"Excuse me Mr. Grossman but," Grossman's secretary hesitated, "but, but I know a really good band – the Hawks."
Receptionist-secretary Mary Martin had been sitting there fielding phone calls while taking it in, and if they want a rock & roll band, well she really did know a good one – the Hawks.
Originally from Canada, Martin went to school in Ontario and caught the Hawks on numerous occasions.
"I saw the Hawks play back home and they're really the best band I have ever seen or heard, even here in New York," Martin said.

"That's a pretty good endorsement," Hammond spoke up, "and I'll vouch for them too; I met the Hawks on the road down south playing with Rockabilly Ronnie Hawkins, a real rout y road bunch, but solid musicians.
Grossman looked at Dylan, and Dylan looked at Mary Martin and John Hammond, Jr. and asked, "Where can we find the Hawks?"
"Put in a call to Colonel Kudlets in Ontario," Grossman said to Martin, and without having to look in his Rolodex, barked out the address and phone number from memory – That's Harold Kudlets, Suite 824 Sheraton-Connauqht Hotel, Hamilton, Ontario – 522-0900."
Grossman talked to Kudlets directly, one on one, mano to mano, they were two of a kind, and dealt on an equal basis even though Grossman was much higher on the entertainment totem pole since he was in Manhattan, the center of entertainment power, and Kudlets was in Ontario, a third world market in the entertainment universe.
Few words were exchanged, and when Grossman put down the phone he said, "The Hawks are playing a nightclub in Somers Point, New Jersey called Tony Marts, and their booked until Labor Day, and Kudlets said the contract is good but they can be bought out of it if the money was there.
It's at this point in the proceedings where things get a little foggy, as some accounts suggest that Dylan, with Hammond, Jr. immediately drove down the Garden State Parkway to Somers Point (Exit 30) to check out the Hawks at Tony Marts.
If they did they didn't call ahead or announce the fact, and at the door paid the $2 cover to Sonny McCullough, the guy behind the cash register at the door who took the tickets and cover charge, they got a beer from Dick Squires at the Triangle Bar, or Dooby at the Round Bar, and stood back against the wall and just took the whole scene in, giving the Hawks close scrutiny.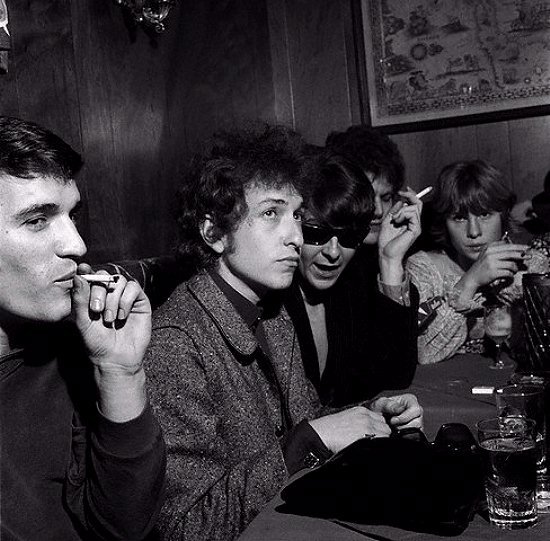 If Dylan did come to Somers Point he didn't say hello to the Hawks or Tony Marotta, or tell anybody who he was, and he wasn't recognized, but its entirely likely that he did check out a performance by the Hawks before he tended them an offer, which he did one afternoon over the phone.
Now back to more solid historical footing, as recounted by Levon, one day while they were rehearsing or sitting around their dressing room on the second floor of Tony Marts, they got a phone call, probably to the pay phone in the hall, and Levon took the call.
Dylan identified himself and asked Levon if he and the Hawks wanted to play with him at Carnegie Hall.
Levon was perplexed, he held the phone away from him and told the other guys sitting around that it was Bob Dylan.
"Whose Bob Dylan?" Levon asked, and Richard leaned over and whispered in his ear, "wrote Mr. Tambourine Man," and Levon nodded and went back on the line and asked, "Who else is on the bill?" he asked.
"Just us," Dylan replied, as Levon incredulously considered them selling out Carnegie Hall as something that just wasn't possible.
But Dylan was serious, and talked Levon into coming to New York City to see him, and the following Monday while the Hangover League played ball, Levon, Robbie Robertson and Garth Hudson drove up to New York City, possibly with Conway Twitty, who had business in New York at the same time.
While Twitty was signing a new record contract with a Country Music Lable, the three Hawks visited Dylan at Grossman's office where they introduced themselves to Mary Martin, the receptionist, who in turn introduced them to Dylan, sitting on the couch in the adjacent lounge.
When Grossman came out of his office, they all sat down around a reel to reel tape recorder and when they were ready he turned it on and played the studio recording of "Like A Rolling Stone," that Dylan had made a few days earlier, mainly with the Butterfield Blues Band and Al Kooper and some studio guys who just happened to be there at the time.
Levon, Robbie and Garth listened, and at the end of the song, they all sat back speechless for a few seconds, until Dylan spoke up enthusiastically, "Do you want to play that?" he asked.
That they did, but there was a problem, you see, they were under contract to play at Tony Marts until Labor Day, but Dylan said he needed them, and needed them Now, as he was booked to play Forest Hills, a tennis area being used for folk shows, on August 28, a little over a week away.
Impossible, they said, as Tony Marotta was a tough nut, and they liked him like a father and couldn't and wouldn't break the contract with him.
Grossman spoke up for the first time saying, "We'll double what they're paying you for the week and we'll contract you for the year, and pay you even if you don't play."
Levon looked at Robbie who looked at Garth and they all were just dumbfounded.
"Well, we'll see what we can do about the Tony Marts gig and get back to you soon Mr. Dylan," Levon said shaking his hand, as Robertson and Garth got up without saying anything and they all left wondering what was going to happened now.
The ride back down the Parkway was a quiet one, they kept the radio off and just though about what was going down, what could go down, and what would go down, and all of the various possibilities.
Going with Dylan, someone spoke up along the ride, was not like backing Ronnie Hawkins, as Hawkins was stuck in the rut off the old Chitlin' Circuit, while Dylan was on his way up, playing arenas, not nightclubs and roadhouses, and his song was Number One on the pop charts at that moment, and they just heard a new song that was going to go somewhere, and they just felt they had to be a part of that trip, where ever it went, and go along for the ride.

But how would they explain that to Rick and Richard and most of all Mr. Mart, Anthony Marotta, who had taken them off the road, given them a steady job and made them feel at home?

They couldn't and wouldn't screw him no matter what.
When they got back to Bay Avenue Somers Point they asked for Rick and Richard and Wordman, cleaning up the joint, told them that they were across the street at Coach's Corner, a little out door grill where they often ate and hung out during the day.
After talking with Rick and Richard, Levon went back to Tony Marts, and walked through the front door as he did the first day he arrived, went through the dark club, now just getting ready to open, and out the back door, past the canyon of beer cases and kegs and knocked on Tony's office door.
Sitting across from Tony in his office was a bit unnerving, especially given what Levon was about to tell Tony, and he got what he expected.
Tony got up from his chair saying, "You want to leave me before the BIGGEST weekend of the SUMMER!, You Bums," and Levon shifted back in his chair, as Tony's voice shifted and went from deep, dark and husky to a softer tone, and the acknowledgment that, "but it's a good opportunity for you boys." The Hawks had been good to him, so Tony sat down again and picked up the phone and said, "If Colonel Kudlets has a band that can fill your shoes for Labor Day weekend you can walk, you can go dance with Bob Dylan or anybody, but Kudlets has to come through."
And Kudlets did come through with a band that was acceptable to Tony – Mitch Ryder and the Detroit Wheels, whose hit song, "Devil With The Blue Dress" was on the charts and making like a bullet.
Then Tony did what he seldom does, he threw a farewell party for the Hawks, something he had only done once previously, for Len Carey and the Crackerjacks. Len Carey was a protege of Spike Jones, and brought his New Orleans schtick to Tony Marts, complete with beads and crackerjacks, while Spike Jones is mentioned in "Up on Cripple Creek."
Since Conway's birthday was coming up soon, on September 1st, but he too was leaving Tony Marts, his contract was up the week before Labor Day, so the farewell party was going to be a double whammy – goodbye, so long, farewell to both Conway Twitty and the Hawks, and planning a fine Somers Point send off was in the works.
{This is an episode of The Long Cool Summer of '65 Revisited – Act II – A Work In Progress)